Dumpster Pad Cleaning
A dumpster is not something that you think about cleaning regularly, but it is something that requires a hard cleaning every now and then. A dumpster holds all types of trash, dirt, and waste. Even if your dumpster is empty regularly, these items can still cause your dumpster to look dirty and smell terrible. As a professional exterior cleaning company, Buddys Pressure Washing provides a superior dumpster area cleaning service. We will clean your dumpster and the area surrounding your dumpster.
When you think of a dumpster, you think of trash, dirt and other filthy materials. While it is necessary to have a dumpster to dispose of your trash, this area does not have to be dirty. The professional cleaners at Buddys Pressure Washing provide superior dumpster area cleaning services. These services involve using a power washing system to complete clean your dumpster and the solid area around it. Our cleaners are trained in the latest power washing technologies, and they will safely use this heavy machinery to thoroughly clean your entire dumpster area.
Cleaning this area will not only make your commercial property smell better, it will make your entire business look more appealing to customers. There are all types of trash that has to go into your businesses dumpster, and it isnt always the freshest products. All of this garbage mixed together will make your dumpster smell horrid and look terrible. The last thing a business needs is a constant eye-sore on their property. Our dumpster area cleaning services will have your entire dumpster area cleaned and spotless.
Let your dumpster area be an asset, not a drawback. Our team provides professional power washing to clean this essential part of your property.
Transform Your Dumpster Area
Traditionally, "dumpster" and "dirty" are a sensible word pairing. But our team proves that this combination doesn't have to apply to your property.
A dumpster area is a high-traffic area and a repository for your property's refuse. It needs a special touch when it comes to maintenance. We deliver with:
Hot water pressure washing: Our dumpster pad cleaning process always uses hot water. This helps to clean and disinfect the affected area.
Odor removal: We strip away buildup that contributes to bad smells. Our finish also prevents odors from taking hold on the surfaces in your dumpster area.
Deep-clean impact: Pressure washing effectively removes build up big and small. We extract accumulation from porous hardscapes and strip away bigger debris.
The Value of Curb Appeal
The professionals at Buddy's Pressure Washing balance functionality and curb appeal.
With a regular rotation of dumpster pad cleaning, you can ensure that your property is getting the most out of its space. Our professionals partner with commercial properties to deliver:
Optimal sanitation: Our cleaning process kills bacteria, eliminates accumulation, and removes germs.
Curb appeal: Our dumpster pad cleaning protects your reputation and your property.
Environmental compliance: We prevent contaminated runoff from jeopardizing your compliance with environmental regulations.
Our team is professional, punctual, and reliable. When you get a dumpster pad cleaning service from Buddy's Pressure Washing, you're getting satisfaction guaranteed!
Summary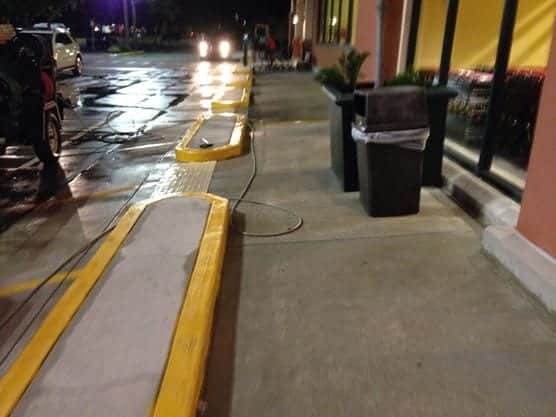 Article Name
Dumpster Area Cleaning | Davenport | Buddys Pressure Washing
Description
The professional cleaners at Buddys Pressure Washing provide superior dumpster area cleaning services. Give us a call at 813-441-4690
Author