Your Rust Removal Source
Rust requires a special plan of attack. The buildup is notoriously resilient, and even strong cleaning agents aren't a match for it. Buddy's Pressure Washing takes a powerful approach to rust removal, and we use F-9 to make it happen.
F-9 Rust Removal Provider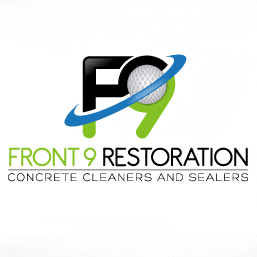 We have teamed up with Front9 Restorations to make F9 Battery Acid Restoration Cleaner (BARC) our rust removal solution. It's the most effective tool out there for complete stain and buildup removal, and it provides a level of quality that you simply can't get from conventional cleaners.
F-9 is a safe, powerful solution for complete rust removal. It treats the affected area to eliminate stains and restore brightness. With our system, customers get complete surface restoration without the negative side effects.
There are also a few important things that F-9 doesn't have: It's doesn't contain acids that corrode your surfaces, and it doesn't carry compounds that cause discoloration.
Universal Rust Removal Solutions
You can't control where rust crops up. So why would you trust a rust removal solution that can't address any surface? Thanks to its unique makeup, we use F-9 on virtually any property surface, including concrete, pavers, bricks, stone, tile, shingles, siding, vinyl, rubber, and beyond.
The source of your rust stain determines its treatment. After assessing your property's unique issue, we take action by tailoring our removal approach. We treat:
Conventional rust buildup
Fertilizer stains
Orange battery stains
Lawn furniture rust stains
Pool deck acid stains
Efflorescence
Don't waste your time with a rust removal service that doesn't deliver complete results. Buddy's Pressure Washing offers top-quality removal services, so you can get your property back!
Summary
Article Name
Commercial Rust Removal | Buddys Pressure Washing
Description
Buddys Pressure Washing has been a trusted provider of commercial rust removal in and around the Davenport Florida area for over 10 years.
Author